There are many ways to make a booth, and we can help with achieving the look you want for your establishment. You have many options when considering how to design your booths, and our sales representatives will be with you all the way if needed.
Please note:
Pictures are in the process of being renumbered. Your booth model numbers may have been changed to better streamline the types of booths. Please send a picture of the booth styles you want to our sales representatives, even if it's from here. Thank you!
The Process to Creating your Booth Package
One of the first things you need to determine from a design point of view is your theme. This will determine the overall look of your location, and your furniture is a key part of it.
Below are some themes, though you are not limited to these few:
Western
Modern/contemporary
Classic
Retro
Exotic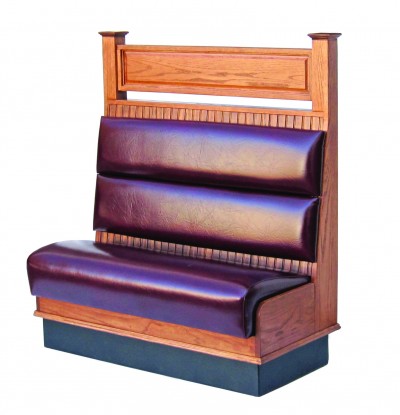 Another key factor is the type of establishment you are creating. Is it a night club? Fine dining restaurant? A hotel lobby?
This is essentially the big picture, and this will get you started on what kind of designs and fabrics to go with.
Have an idea of your layout: this will determine what types of booths you will be needing.
As shown in our booth layout, we have:
Single & double booths
U & half-circle booths
3/4 corner & 3/4 circle booths
Wall & L banquettes
"Sombrero" booths
Our sales representatives can go over your layout to give you standard sizes for typical comfort zones for your customers. Just one of the many things to consider is leg room and number of seating – a 3/4 corner booth will seat more than a 3/4 circle booth.
This is where you decide on the final touches. Customization abound:
Base vs Legs (metal vs wood)
Tufted, channeled (wide vs narrow), V vs stripes, or plain backs
Nails vs no nails – if nails, spaced (your choice of space) or strip
Head roll vs wood head vs none
Finished side vs upholstered side
In the next section, your customization will be in more detail.
Customizing your Booths
All booths are built from scratch and to your customized size. Based on our experiences and for customer comfort we have some standard sizes and styles, but in the end, each booth is customized. If you have an idea of your own, we can see if we can accommodate.
For some standard styles, see below.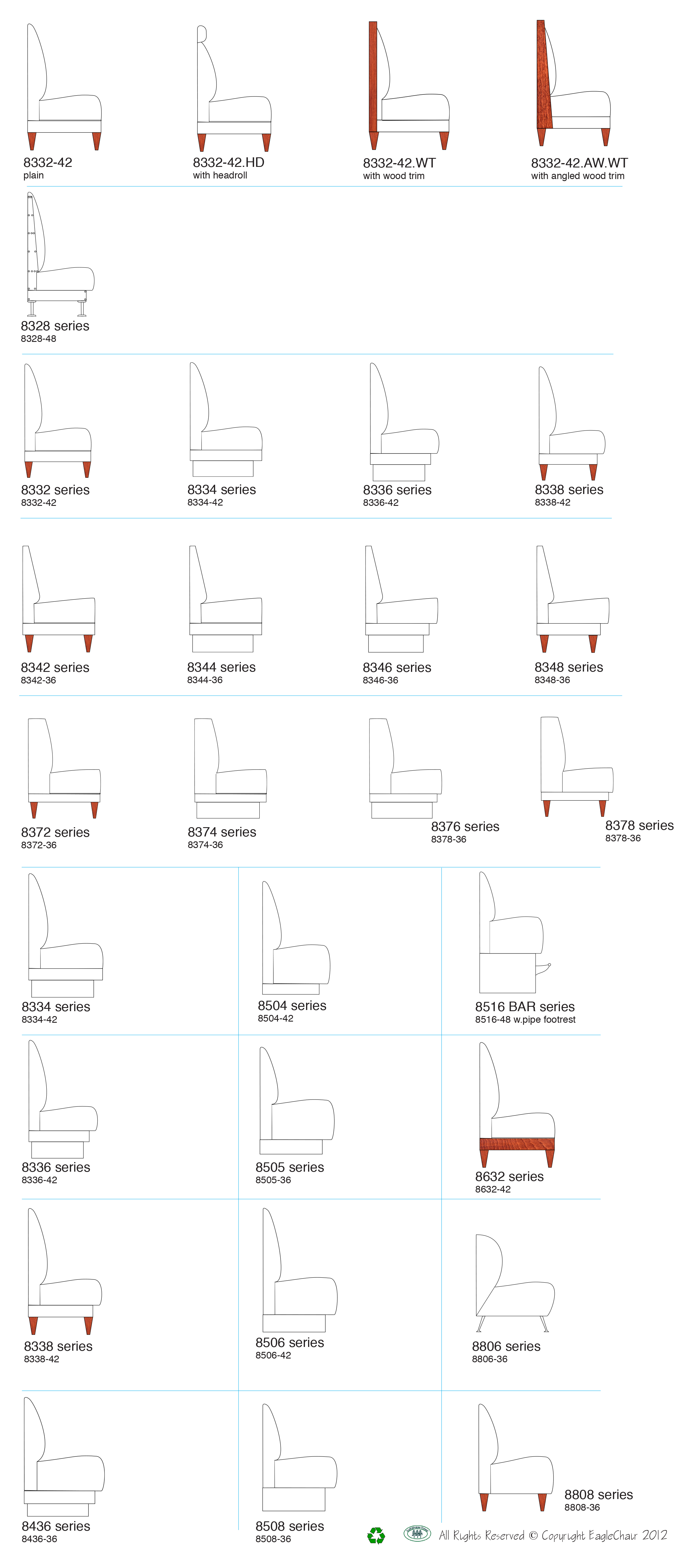 Just from looking at the profile tab, you can see that backs come in a variety of shapes and sizes. Additionally, you can design the back for different looks. Price depends upon complexity.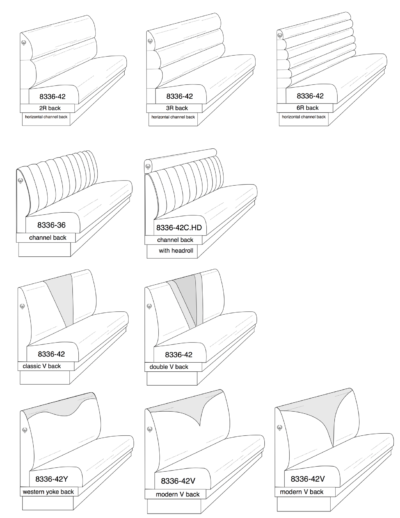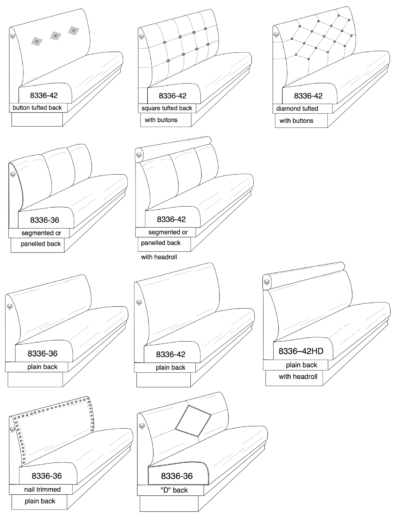 Though most of our booths use a simple black-upholstered wood base, you do have the option of having it upholstered with a different fabric or even choosing wooden or metal legs.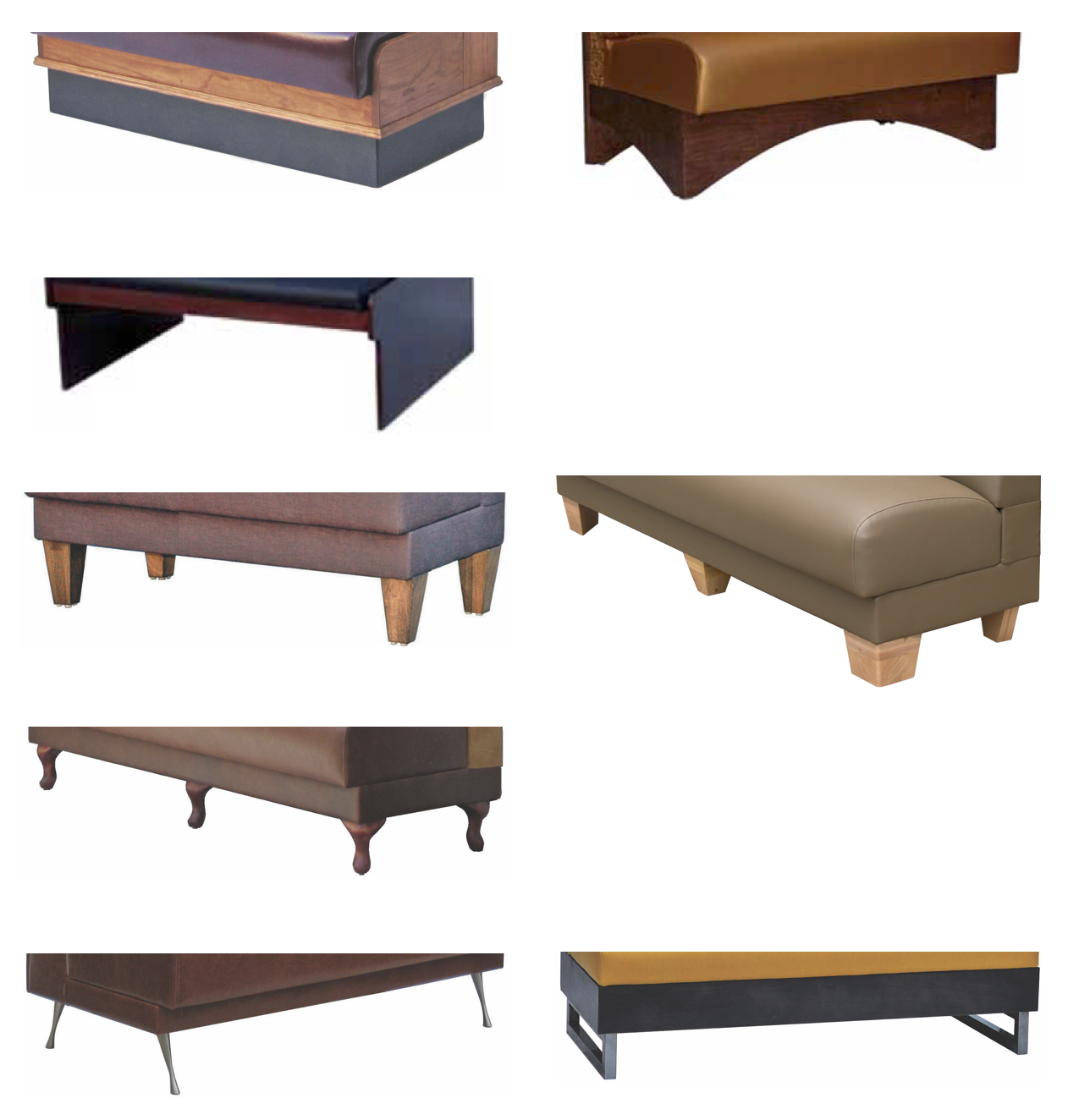 Our most common is the black base, which can be different heights as well (look at Profiles for some visuals). Additionally, there are many different types of legs you can find in hardware stores, so if you choose a style not shown here, we can usually accommodate.
The Booth Gallery
For ideas and visuals of the possibilities, please peruse the gallery.
We manufacture every kind of booth, depending on your space – we offer field measurements as well:
Single booths
Double booths
Banquettes
U Booths
L booths
3/4 Corner booths (8 seater)
3/4 Circle booths (6 seater)
Sombrero booths
Clover leaf booths
Our field representatives have years of experience, and will try to solve the problems before they arise, if they see it.
We do not keep booths in stock since all are manufactured from the ground up, so do expect a lead time of 6-8 weeks.