So begins our Virus-Free Tour, bringing our showroom and manufacturing to you! We know that seeing is believing, so this is our way to introduce you to what we do, what we can do, and what YOU can do! Though all this information is throughout our website, this will be more down-to-earth, so to speak. Throughout will be links that will have the most information in each section. And we will be continuously updating as we get more photos to share. Let's start!

Navigation
Who are we? | What do we make? | How do I get pricing? | Chairs and Barstools | Booths | Ottomans | Table Tops | Table Bases | Outdoor
---
Who are we?
We're an actual manufacturing plant here in Houston, Texas; been here for over 36 years, in fact. We're a family owned business; founded by an engineer and a physicist, the furniture that comes out of here must pass THEIR standards, which are pretty high.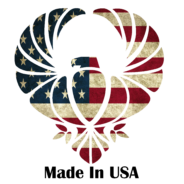 As you probably know, we make our products here in the United States of America, so you can feel confident that you are buying a product with the highest quality made by American artisans and craftsman.
Our craftsman and engineers constantly analyze and follow ways to reduce wear and increase comfort and longevity of our products. The realities of functionality in a restaurant are considered, especially one fact that the Chinese direct imports don't care about; no one should worry that their furniture is going to fall apart in the prime first years of a restaurant or hotel. Most of our repeat customers call after 5, 10, or even 15 years later not for breakage, but for reupholstery or change of style.
So long story short, we're here to make sure that you can have American-made furniture in your style, with durability to last through much of the brutality that restaurant furniture must weather through. We love to share our thoughts on what may work and what may not work based on what we've seen, and our extensive experience working with the restaurant and hospitality industry.
---
What do we make?
We manufacture chairs, barstools, table tops, table bases, all kinds of booths, ottomans, and outdoor equivalents. We will go into detail for each in a moment.
We have preset frame designs to choose from for most every item, and each can be found in their respective list in the menu above.
We are a CUSTOM manufacturer, so we have numerous options if that is something you're looking for.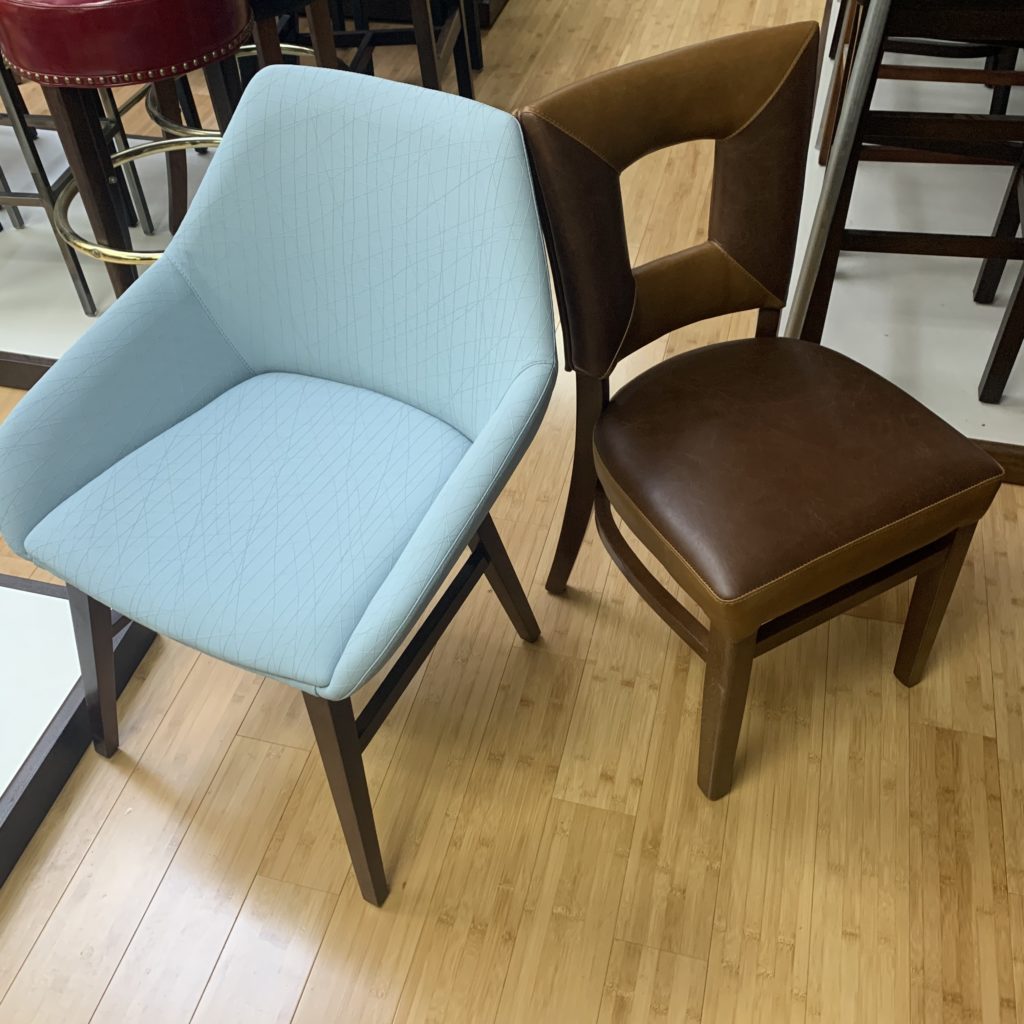 Only our outdoor and some of the bases are on a short day or two lead time. Since we make per order, most other items are a minimum 4-5 week lead time to get the materials required.
We do offer 1-2 week turn around on some of our clearance items and some older designs that are pre-finished.
---
How do I get pricing?
Check our contact page for the sales representative in your area. If you are in Texas south of Dallas (because we do have a representative in Dallas), you can send a request for a quote to sales@eaglechair.com.

Typically we need some basic information to start a quote for you. This will give you ballpark numbers, since more accurate information (like exact fabric choice) will give you more accurate pricing. Floor plans are always welcome, and makes our sales happy to see!
Also, please provide the shipping zip code for us to include a freight quote for you. You also have the option of picking up (Customer Pick Up, or CPU).
Chairs/Barstools: model #, seat type, finish if applicable
Booths: type of booth, lengths, model #, height, and type of back design.
Ottomans: model #, length, height and depth.
Table Tops: edge model #, quantities, and sizes.
Table Bases: model #. If part of the quote for table tops, we will match their sizes for the tops for you.
This is typically the minimum information we need to start a quote. If more information is needed, they'll let you know.
Please note that we will send you an official quote most of the time; to place an order, most new orders require 50% deposit, balance before shipping. A purchase order or a signed quote is required for us to open an order; make sure that you receive your order acknowledgement to assure that the order is actually placed.
And remember; the date scheduled is for us to ship from our warehouse; we cannot guarantee delivery dates since that involves common carriers usually.
---
Chairs and Barstools
Chairs and barstools have preset frames, as in tested geometrical designs. However, from there, it's all custom; you choose the water-based stain color of the wood finish; the upholstery fabric AND style, and any additional addons we offer. You can decide on a padded seat, a wood seat, a full seat, and more; it's built here so we have that flexibility!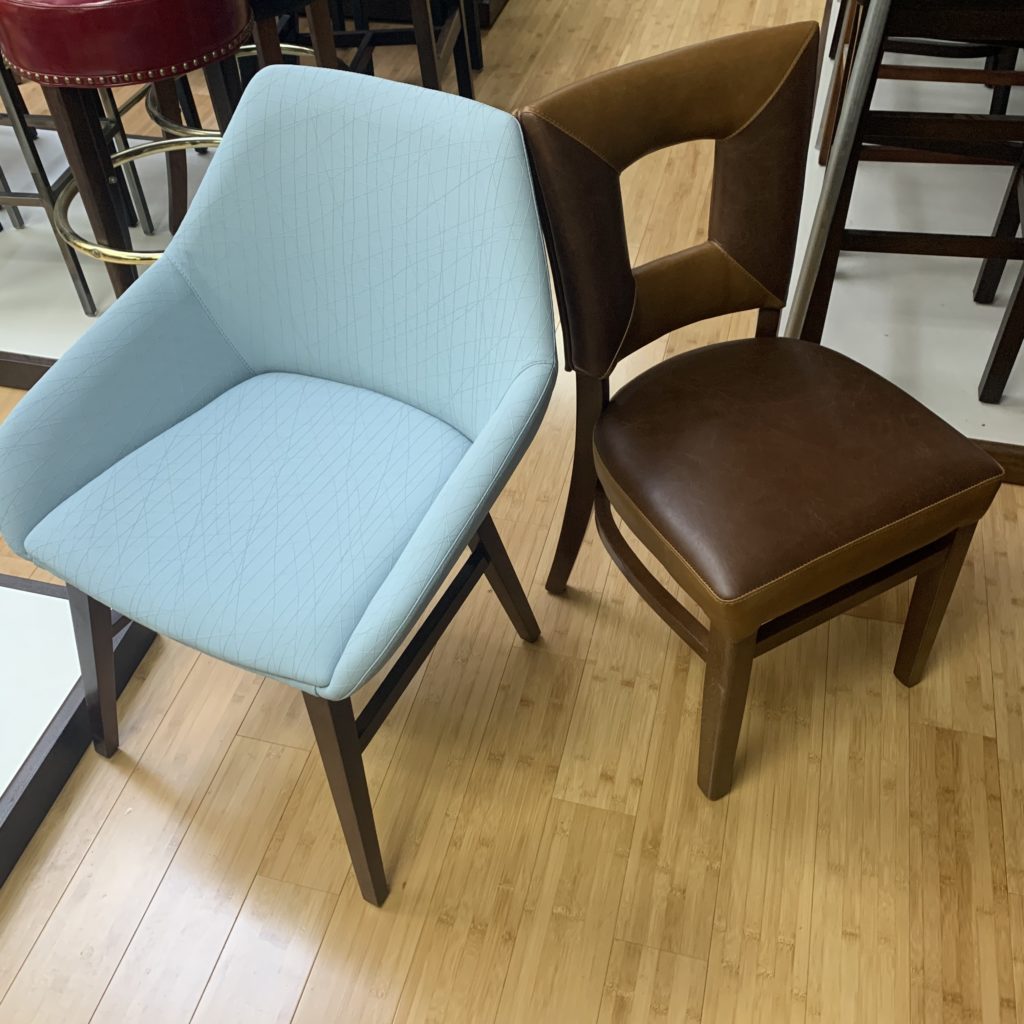 They are assembled, stained to your desired color if a wooden frame, and then upholstered if not a wooden seat. You can add nails; channels on the back, tufting, your choice!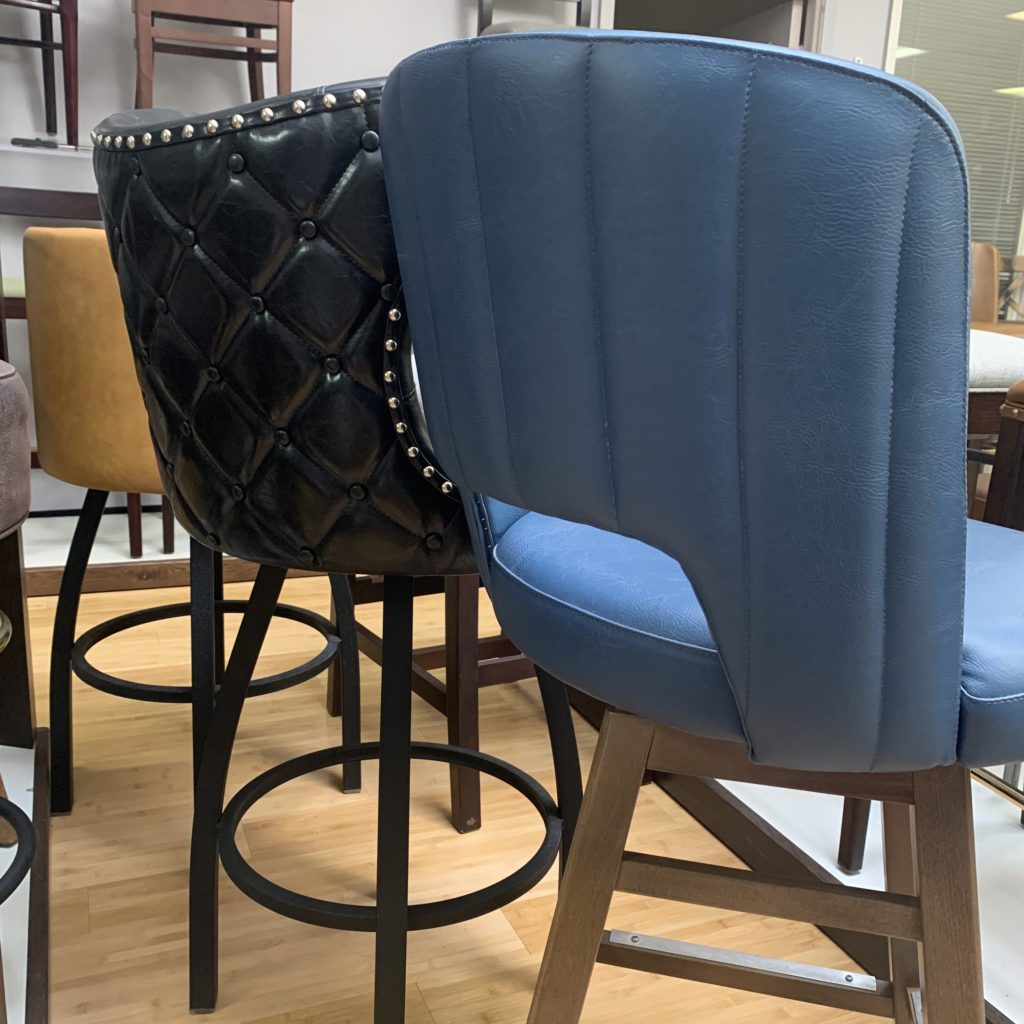 You can even have certain barstools cut down for counter height; just keep in mind that the footrest will be closer to the ground and may affect the overall look of the barstool.
Chairs are sorted by style; we have large ones for lounging, or smaller ones for ice cream places, or saddle seat wood ones for steakhouses, or metal upholstered for retro, and etc. Sometimes, you can send us some Pinterest ideas you like or the type of restaurant you're looking for and turnaround time, and we can definitely narrow down what you're looking for!
Our metal frames have a quicker lead time since they are premade frames. We just have to make the seat! We have some in clear finish (which looks grey) and black miniwrinkle.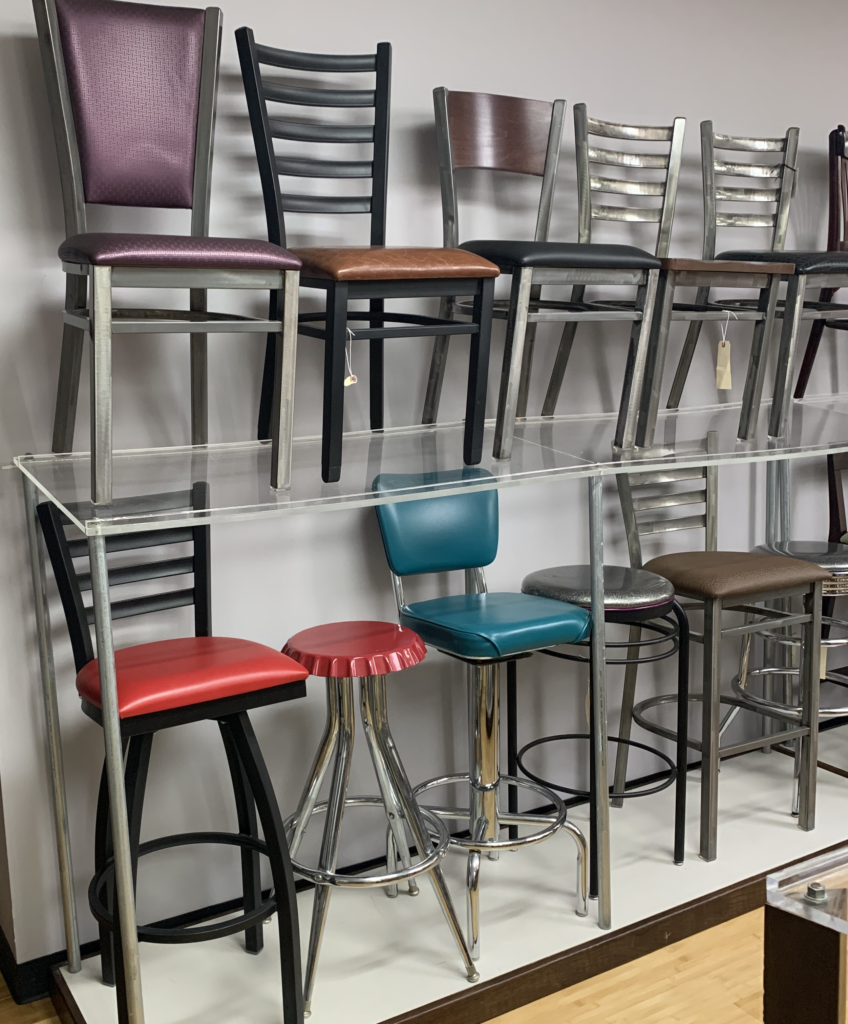 We have some preset wood finishes. We also have the ability to match stain colors (upcharged) to either preexisting furniture (need a physical sample) or a wood sample, although please note that differences will be affected by the actual wood used and grain (AKA oak will look different to pine). Our booths are oak frames (not plywood like most other manufacturers) and our chairs and barstools are European Beech. It bends but is durable, so it's that much less likely to break.
Not only that, but we have true bentwoods; not the precut Chinese imports, but true Italian steam-bent woods made from Michael Thonet molds that, though small-looking, can handle our Texas sized clientele, in addition to the rest of the country.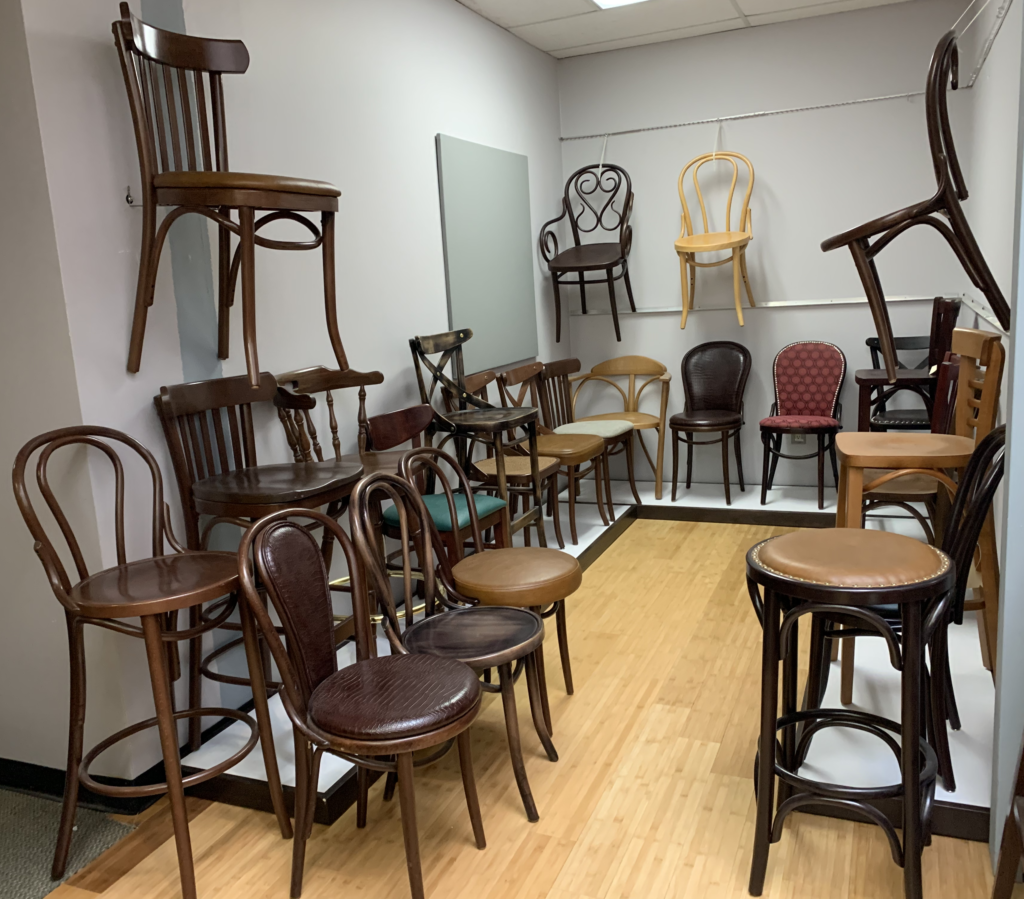 Where do you want nails? Want them spaced? A strip of nails? Along the edge, or only in spots? We are not joking; there are lots of choices!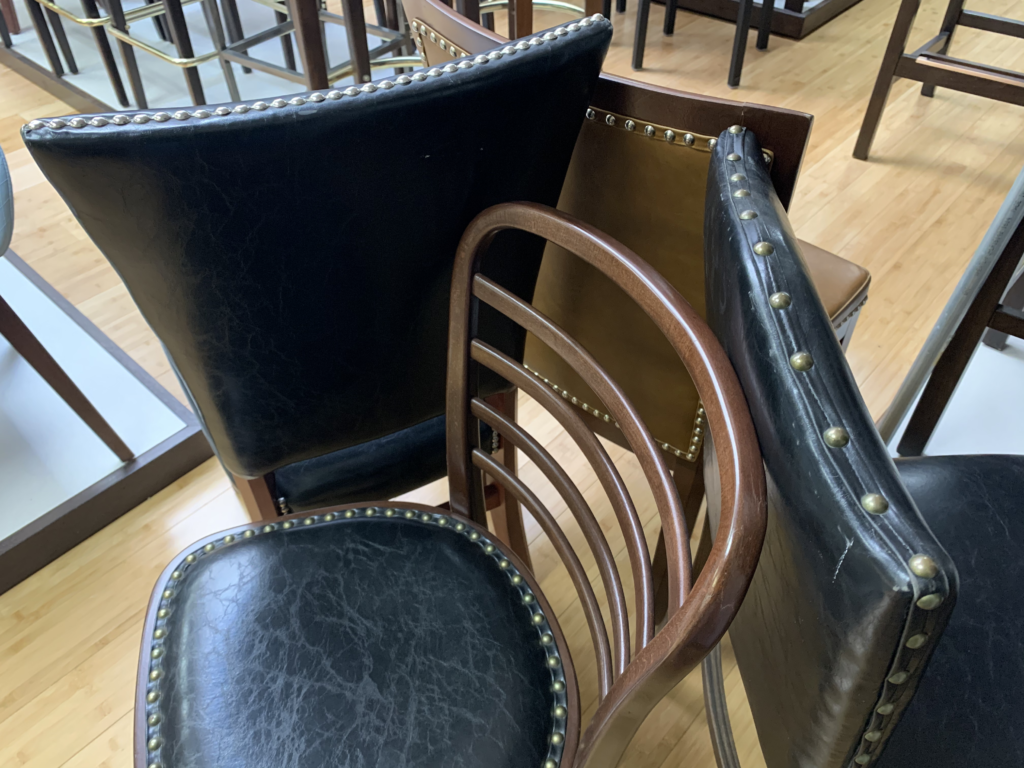 We also have lounge chairs and wide seats, depending on your needs.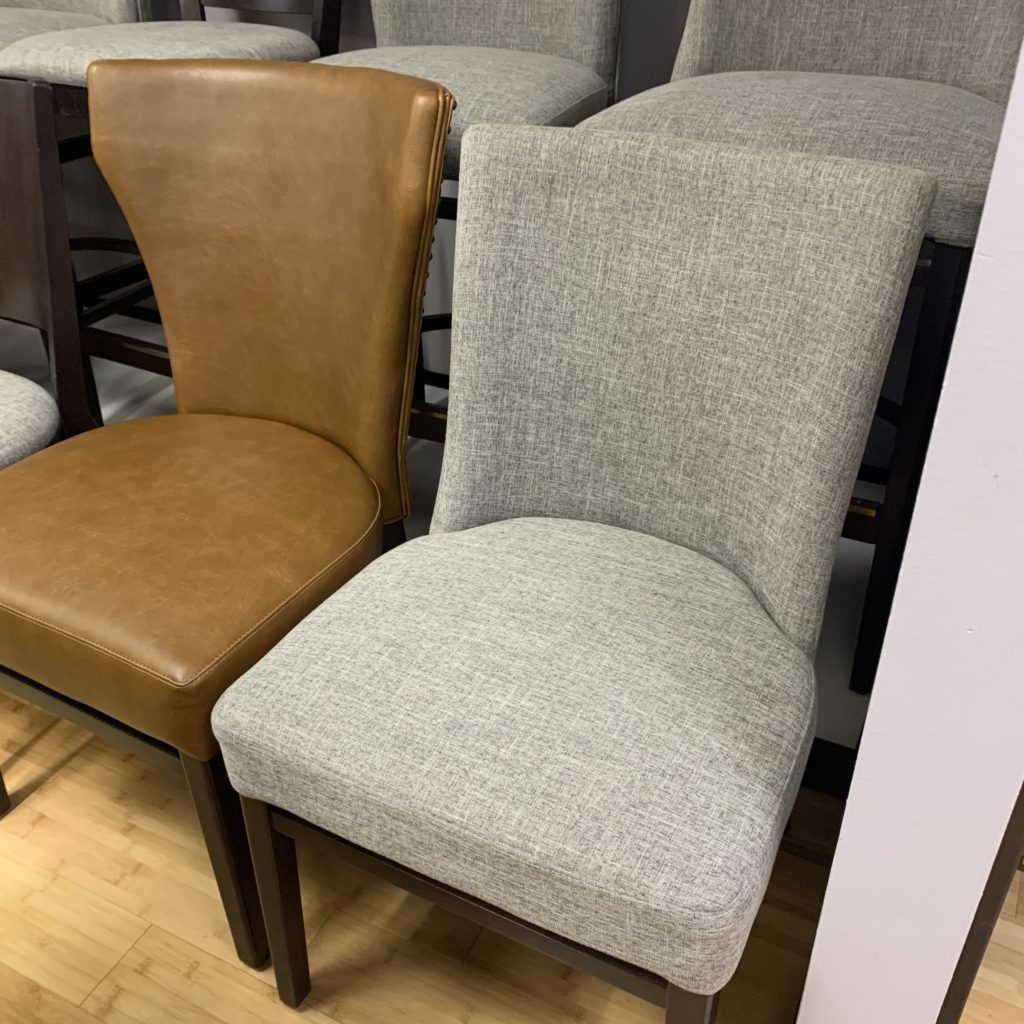 Our newest style is a mix between lounge, banquette, and chair; the settee. Designed to be nearly as wide as you want it, you'll be one of the few to have it.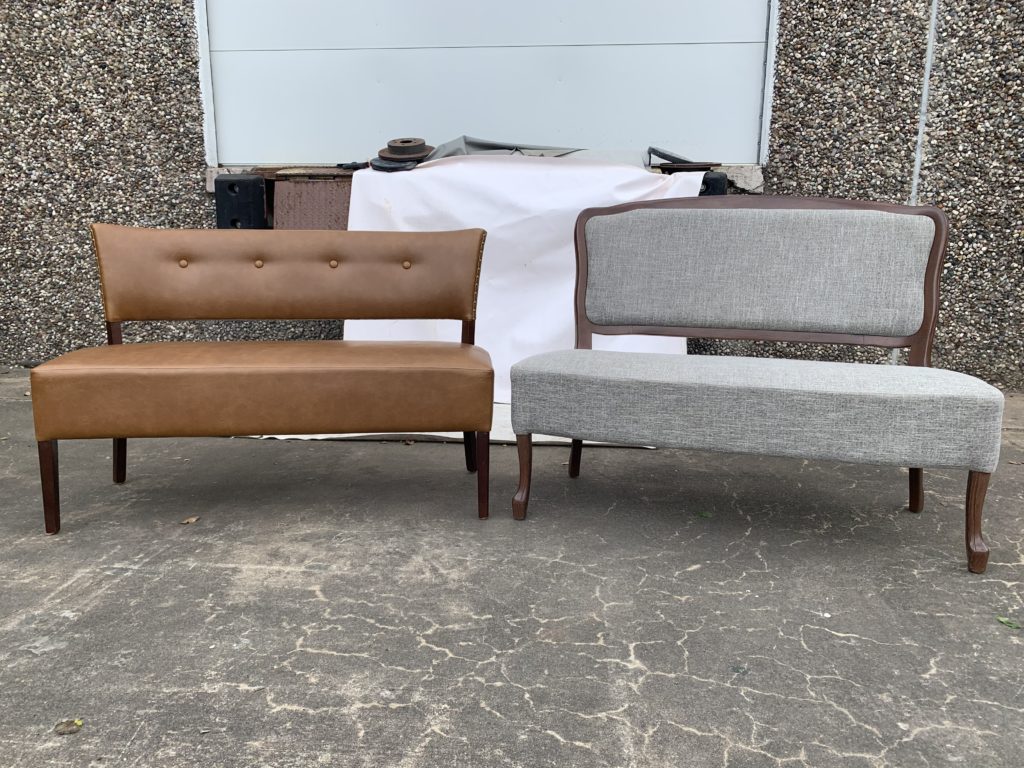 When requesting a quote, bulk pricing is always given. The most accurate price will depend on what model #, wood, padded, or other seat style, finish, and any additional options you choose.
---
Booths & Banquettes
Our solid oak booth frames are built from the ground up, so we can build any size. The oak frames are solid and are guaranteed for life.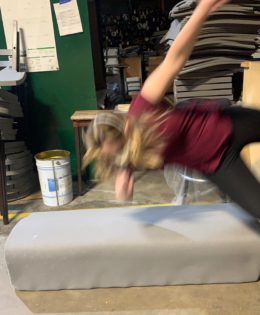 What makes us especially unique is our move away from springs for the seats. Instead, we use a hardy suspension that never wears down inside the seat. The comfort level is hard to surpass, especially when compared to many of other booth seating; you will WANT to stay in it.
Additionally, we stick with removable booth seats whenever possible; though we guarantee the booth oak frame, the upholstery is covered under their own manufacturer's warranty and typically does suffer the most wear and tear. The removable seat allows you to be able to send just the seat instead of the whole booth for reupholstery, or replace it with a new seat if you cannot suffer the absence of the seat for a few days.
And it's unique in that no matter how large or small your customer is, multiple people sitting on different ends won't feel any sinking or rising.
We only reupholster our own products, since we can guarantee the integrity of our own products, but not others.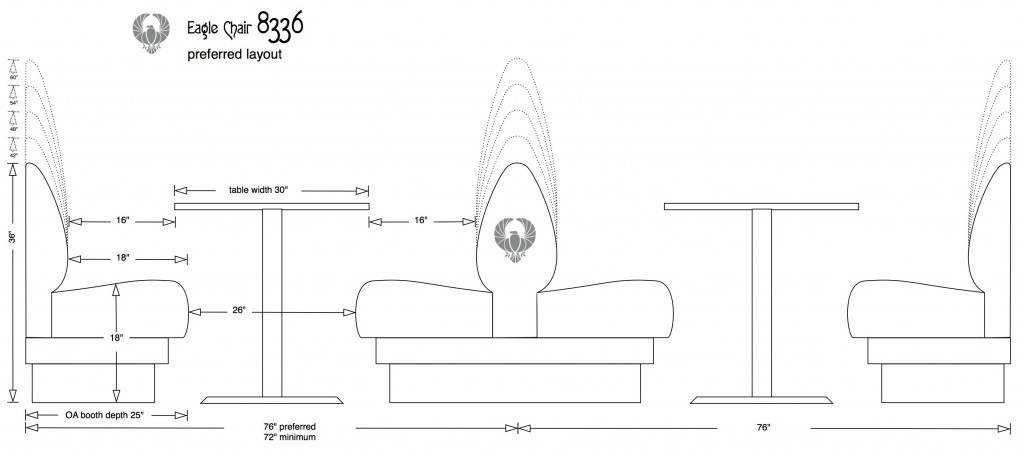 When looking at how many booths you can comfortably place in your area, we have a few rules of thumb we like to follow. For instance, singles and doubles; an ideal booth space is 75″ from back to back of the booths, leaving a 30″ wide table in between. If you're tight for space, you can go 72″ booth to booth, with a 24″ wide table in between.
When it comes to corner/circle booths, the absolute shortest side length to go is 7′, though 8′ is much preferred for your clientele's comfort.
We do default to a 3/4 corner booth instead of the 3/4 circle booth, primarily because we find that a 3/4 corner booth is more comfortable AND fits more people, but we understand that some just NEED that circular look. Last design choice always goes to the customer.
Bar Height Options
Since all of our booths are built from the ground up, bar height booths are definitely available. We typically start with the minimum at 42″ overall height, which is a 12″ back, and go up as high as you want.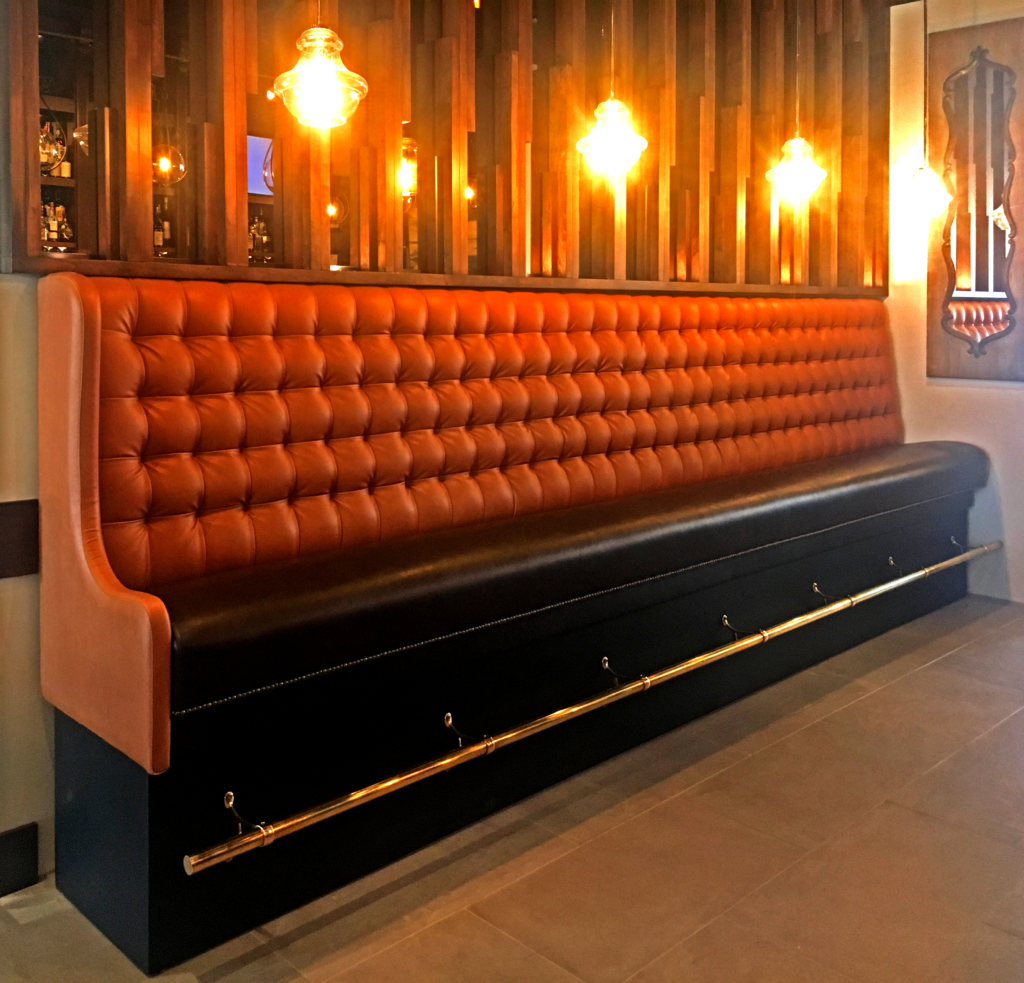 You have your choice of bar rail: gold or aluminum. You can put in outlets in the bottom (well, doesn't have to be bar height for that).
Where to Start
Our model #s define which template to follow when building; from there, you decide the height. Our most affordable is the 8336-36, which means it's the 8336 model with a 36″ overall height. Each leap up the standards, such as 42″ is an additional $10 per linear foot, same with going up to 48″ is another $10. We can make them as tall as you want.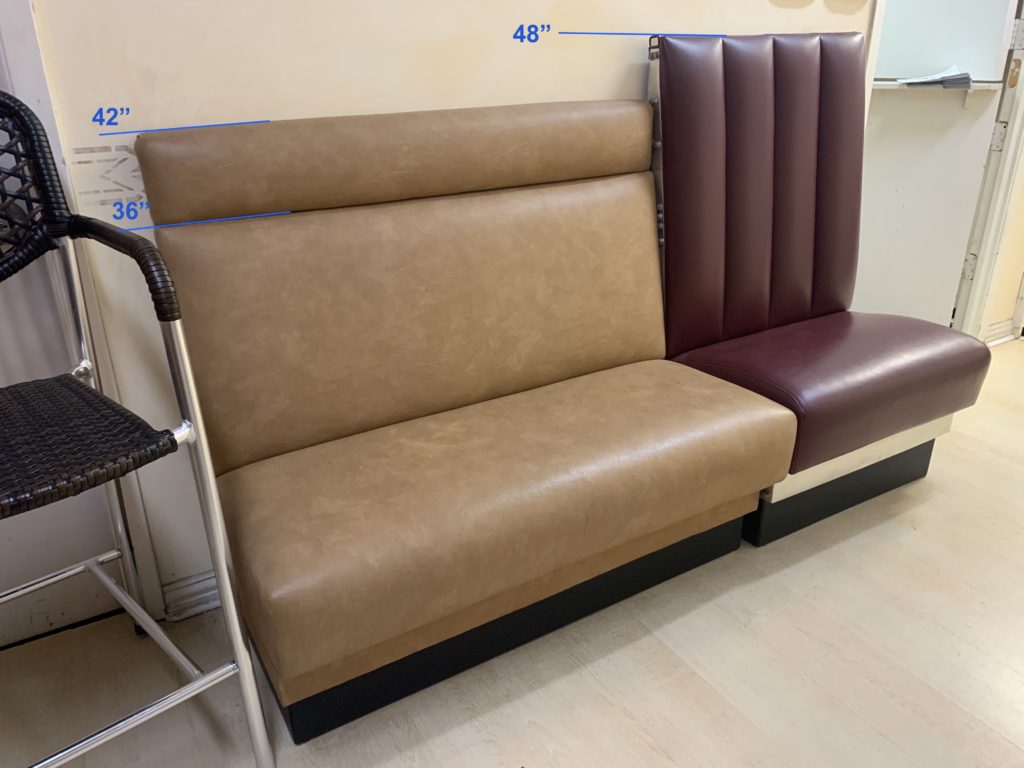 You can choose between a LARGE variety of backs; differing colored channels, contrasting welt, all kinds of tufting, etc. Our experienced booth woodworkers and upholsterers can make most anything, even cut outs when there's that structural required post that just is in the WAY.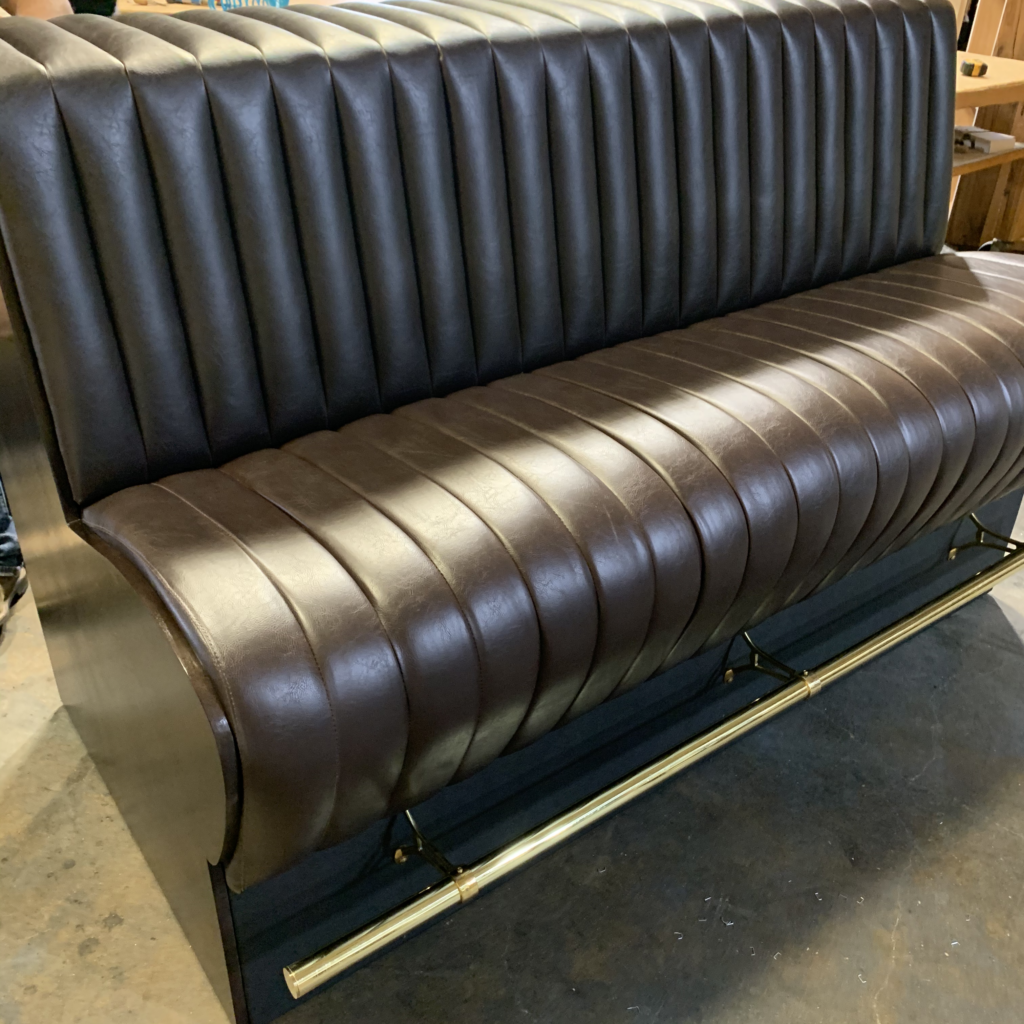 Choose your shape, your size, and we can start a quote for you! You can also use this guide for table top sizes as well.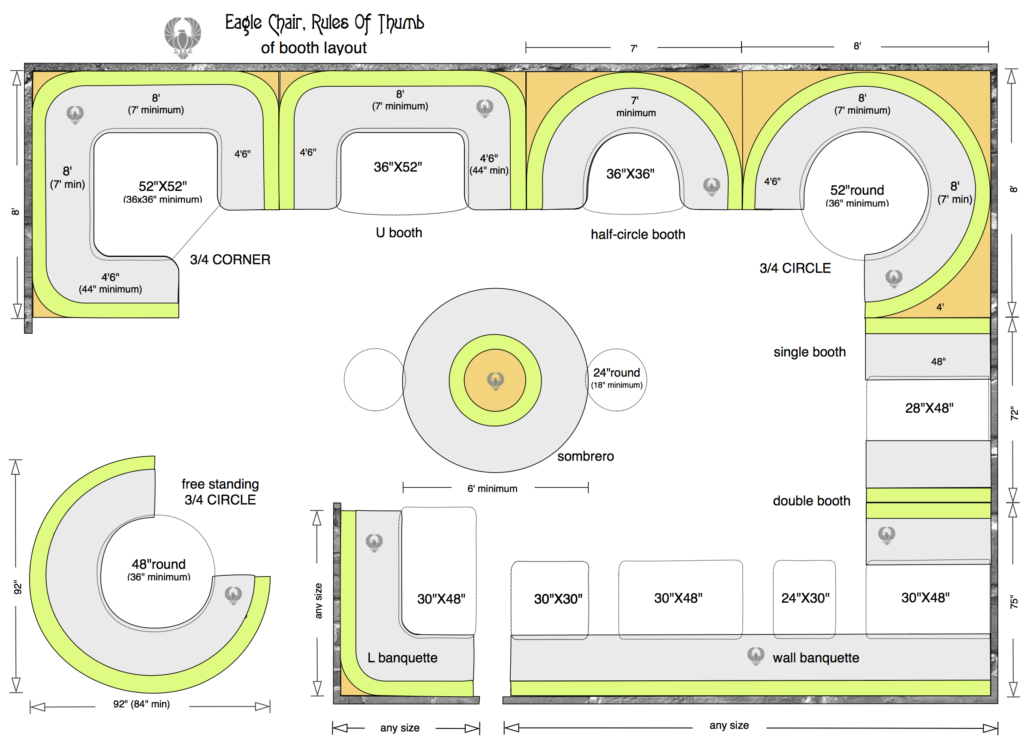 ---
Ottomans
Ottoman frames are built in exact dimensions, so you can have a small cube, a counter height oval, anything you desire! Some designs are presets, but the customizations are there.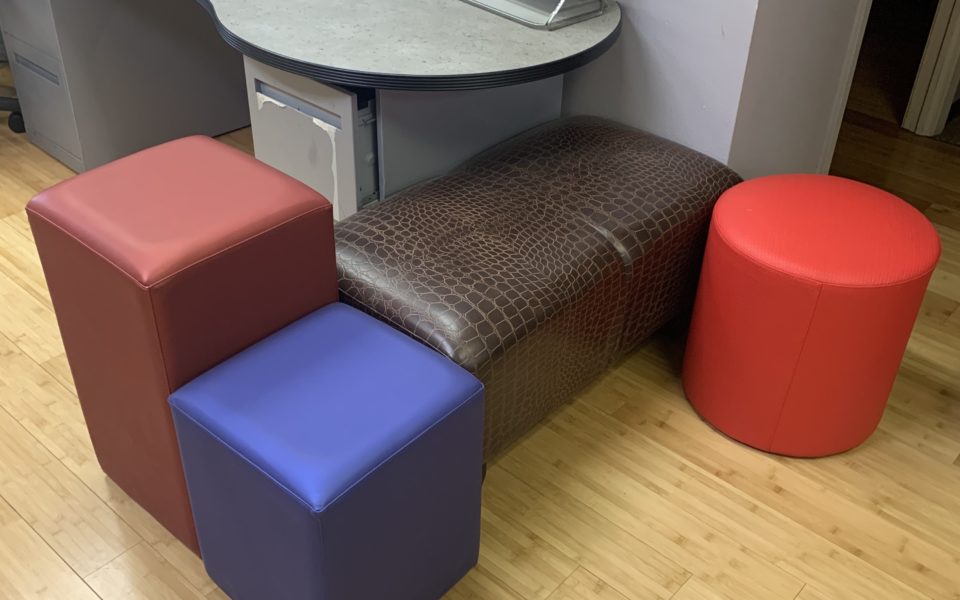 They're great for waiting areas or as a low upholstered table.
And now, we're introducing the comfortable Dog Bed, as part of our ottoman line up; our own test dogs love them.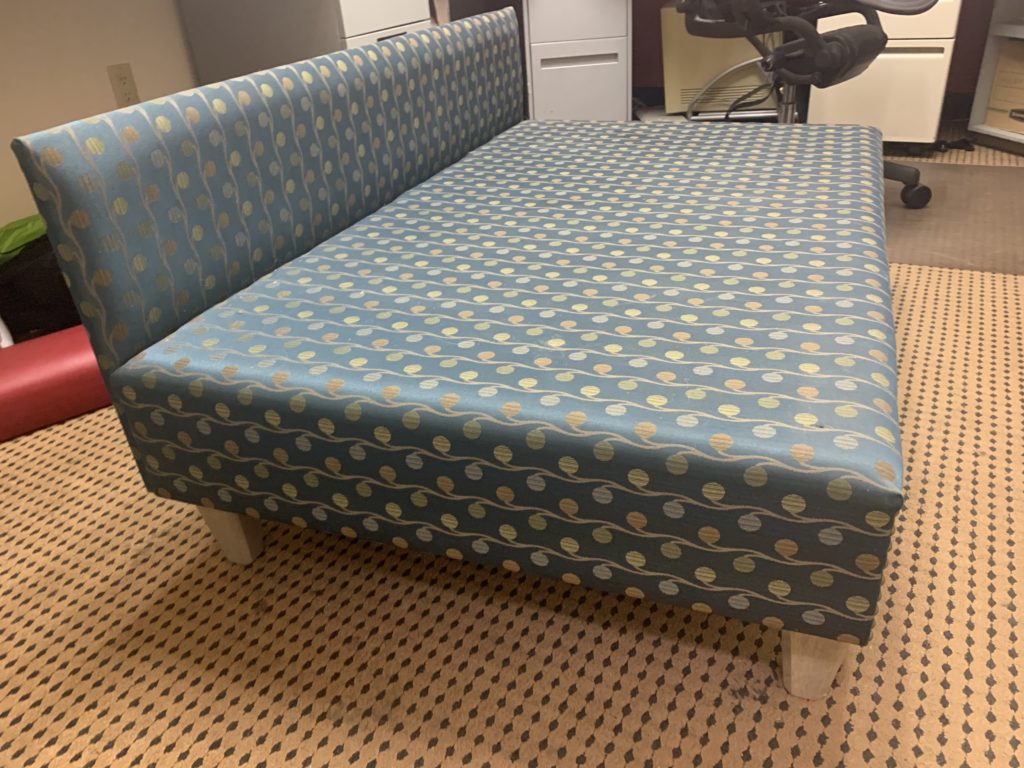 ---
Table Tops
Our primary indoor table tops are completely custom, with your choice of size, edge, and laminate top. The pricing depends on edges, sizes, and laminate choice, so typically you'll have to make those decisions before you receive a preliminary quote.
Our edges and types are separated into a few categories, and then defined by series # within each category. Look over our edges page for more information.
Plastic edge
Budget cost, and designed to take the hits without issue.
Wood edge
This edge allows any stain; our skilled tableworkers can even match non-wood looking laminate. Default is to match laminate if no other finish is specified.
Aluminum edge
Designed for the retro era; please note that not all aluminum edges are available with the sharp corner shown below, and will default to a radiused edge, unless specifically specified.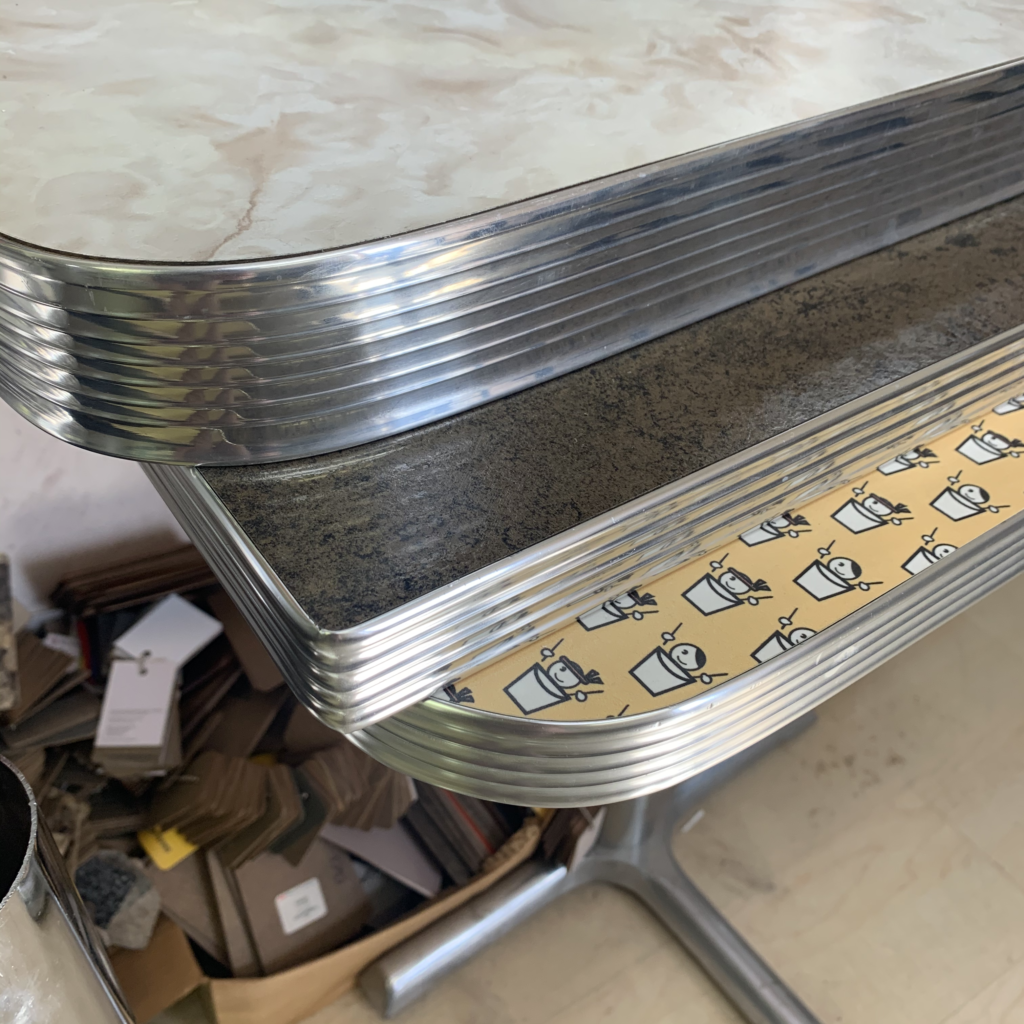 Self edge
This one is advised against, since your edges WILL get bumped in commercial use and as good as we are, they will get worn down. Considered for low-usage.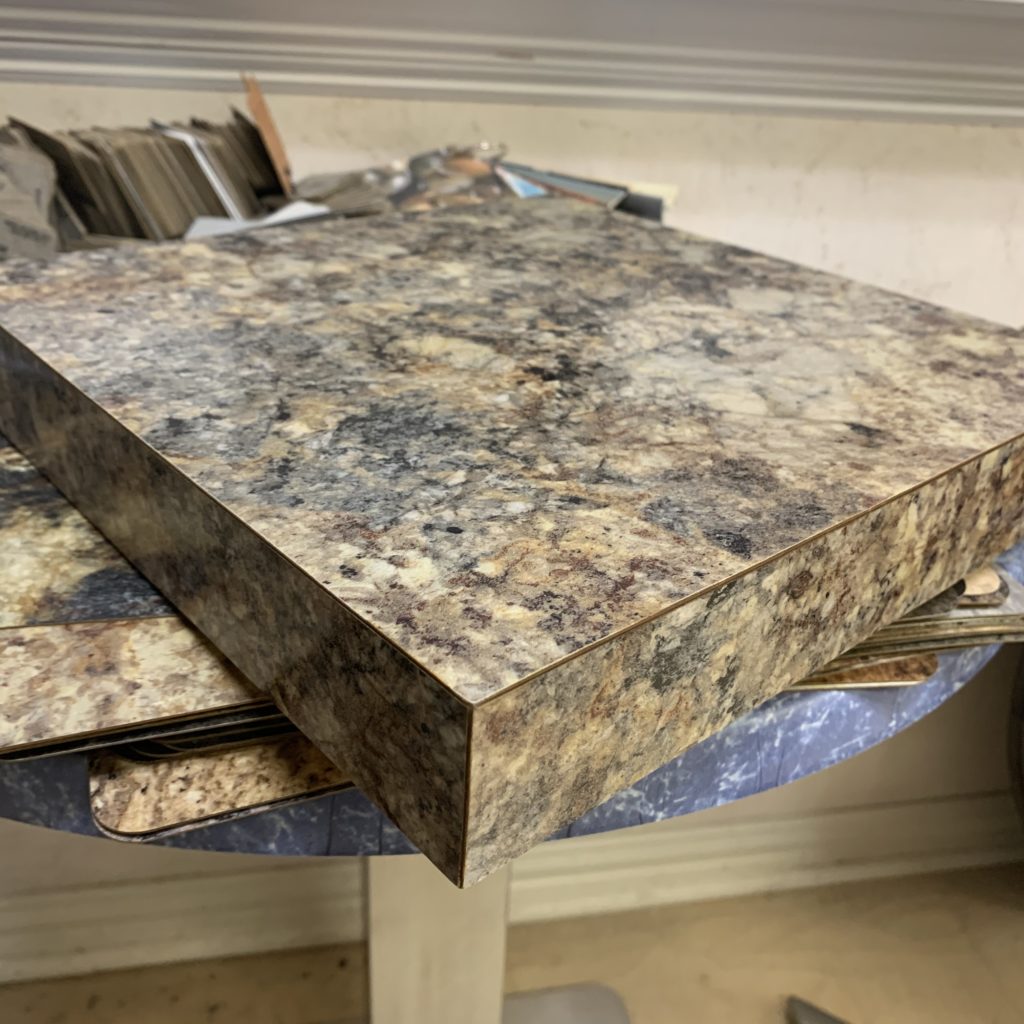 Padded tops
These are typically with a white vinyl, hardy foam, designed for table clothes.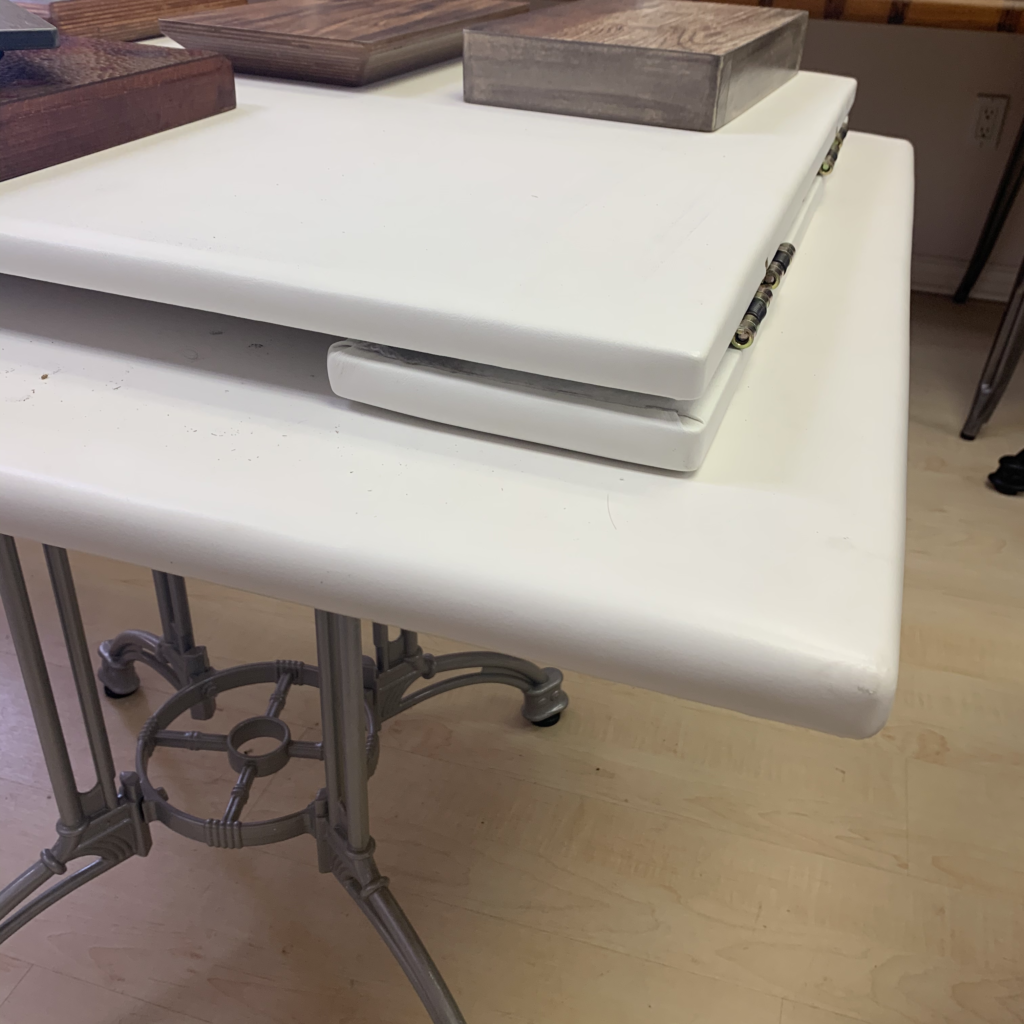 Square to Rounds (STRs)
We also have Square-to-Round sizes, with extremely durable hinges. We can advise availability and suggestions with sizes.
The two most common size STRs are 36″x36″ opening up to 52″, and 42″x42″ opening up to 60″. Typically we use the padded 300 series tops. We are able to do thicker series, but each one will be decided on a case to case basis; how large a leaf, how thick the wood edge, and how much the hinges can comfortably handle.
Table Sizes
We cut all tables to size in-house, but if you're needing typical standards:
The squares and rectangles have different set of norms, depending on the local economy you're selling for. The European market and certain restaurant types tends to go smaller, which are typically combinations of 32″s, 42″s, and a lot of 24″ squares.
For many American markets and other restaurant types, the smallest is either 24″x30″s (for the flexibility to combine two to make a 30″x48″ when necessary), or 30″x30″, and include combinations of 30″, 36″, and 48″s.
So for example, a 2 top European market could be 24″x24″, American market could be 30″x30″ or 24″x30″.
These are only suggestions! It will also depend on your space, the type of food and plates you're feeding your clientele, and your own personal preference.
Booth stops are radiused on the corners to adjust for the shape of the booths we make, so (personal bias aside) we usually try to encourage that if you're getting booths from us, get the table tops as well, so you can have no worries about whether the table tops fit or not.
As mentioned in the booth section, typically spacing between singles and doubles are about 75″ for a booth space, which leaves a 30″ x (booth length) table in the middle. The shortest space we suggest is 72″ between space if you're tight for space — the tables will then be 24″ x (booth length).
Choices, Choices
Lastly, your choice of laminate is immense. We can start you off with lower lead-time and price choices (simpler choices), then some with more texture at the next tier (Virtual Library), even a metal sheet (quite pricey). You can even make a custom logo!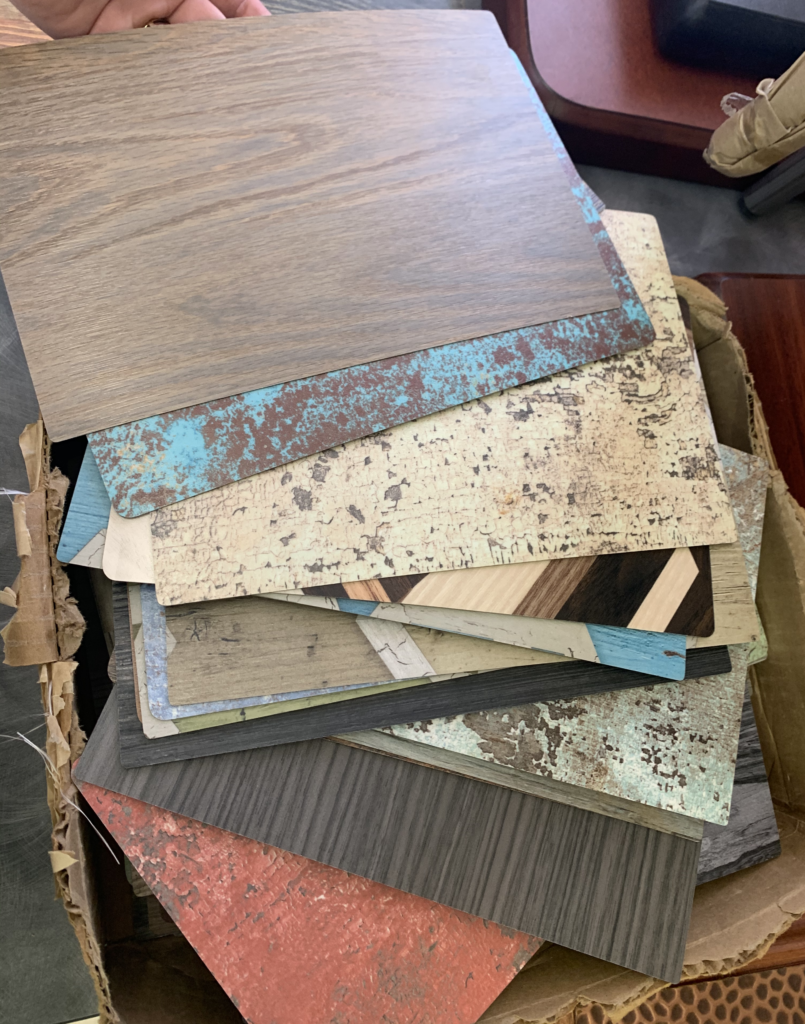 Granite, Quartz, Butcher Block
We also have sources for granite, quartz, and a simple butcher block table.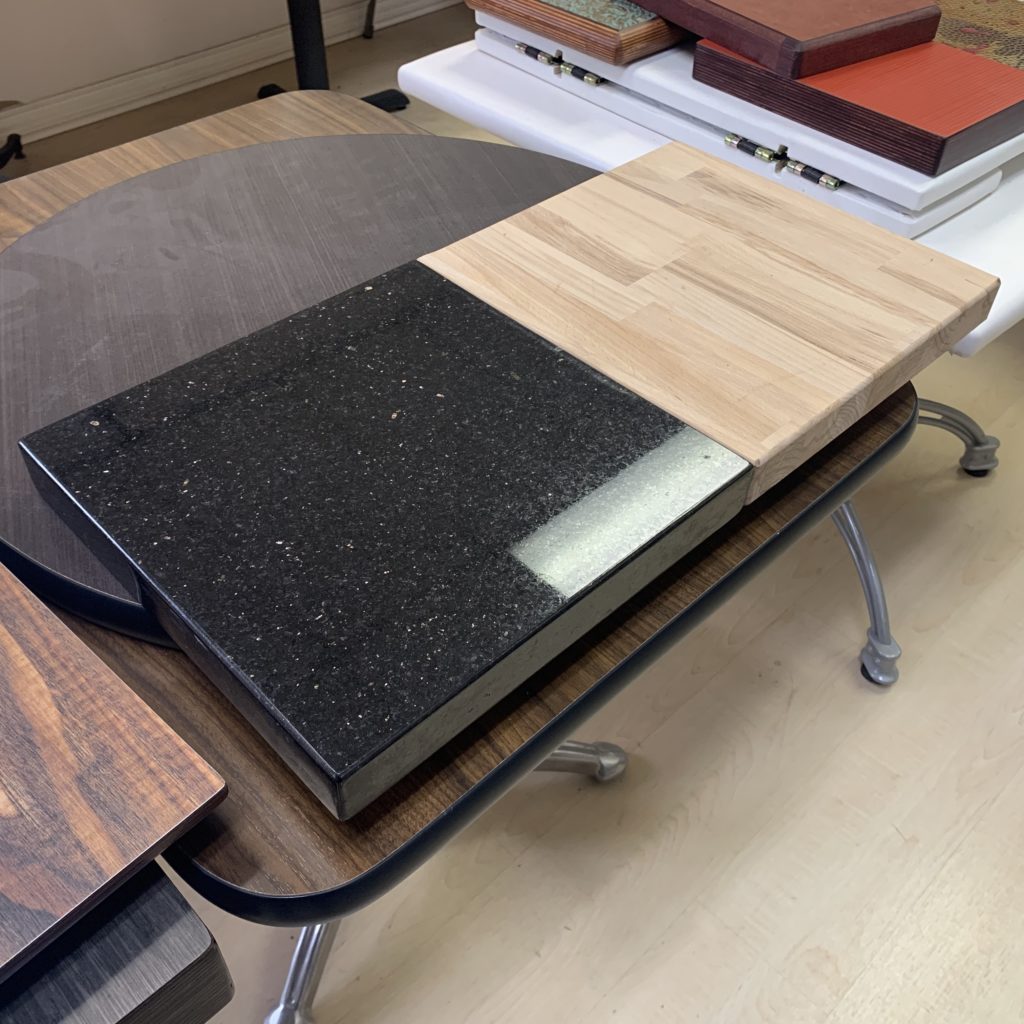 Our outdoor tops will be in the Outdoor section below.
---
Table Bases
For table bases, your main decision making is the style you are going for, and your price point. We understand budgets, and typically, this is the best place to save by sticking with the lower price tier, since your tables should be more prominent than the bases below.
Our bases, noticeably priced different from other online Chinese-imports, are designed with a thicker metal wall than most anyone else. SPIDER VS PLATE
When we quote your tables, we will quote bases, sizing bases with their tops, even bar height. And these are preassembled before you pick up or receive them, hence why they still have a few day lead time. They are NOT attached to table tops before delivery, since there are two ways of attaching most and it will be up to the customer on which way you're wanting.
We have a variety of series, starting with Atlanta – our most cost-efficient and simple series. For simple, durable, and cost-efficient, this is the way to go.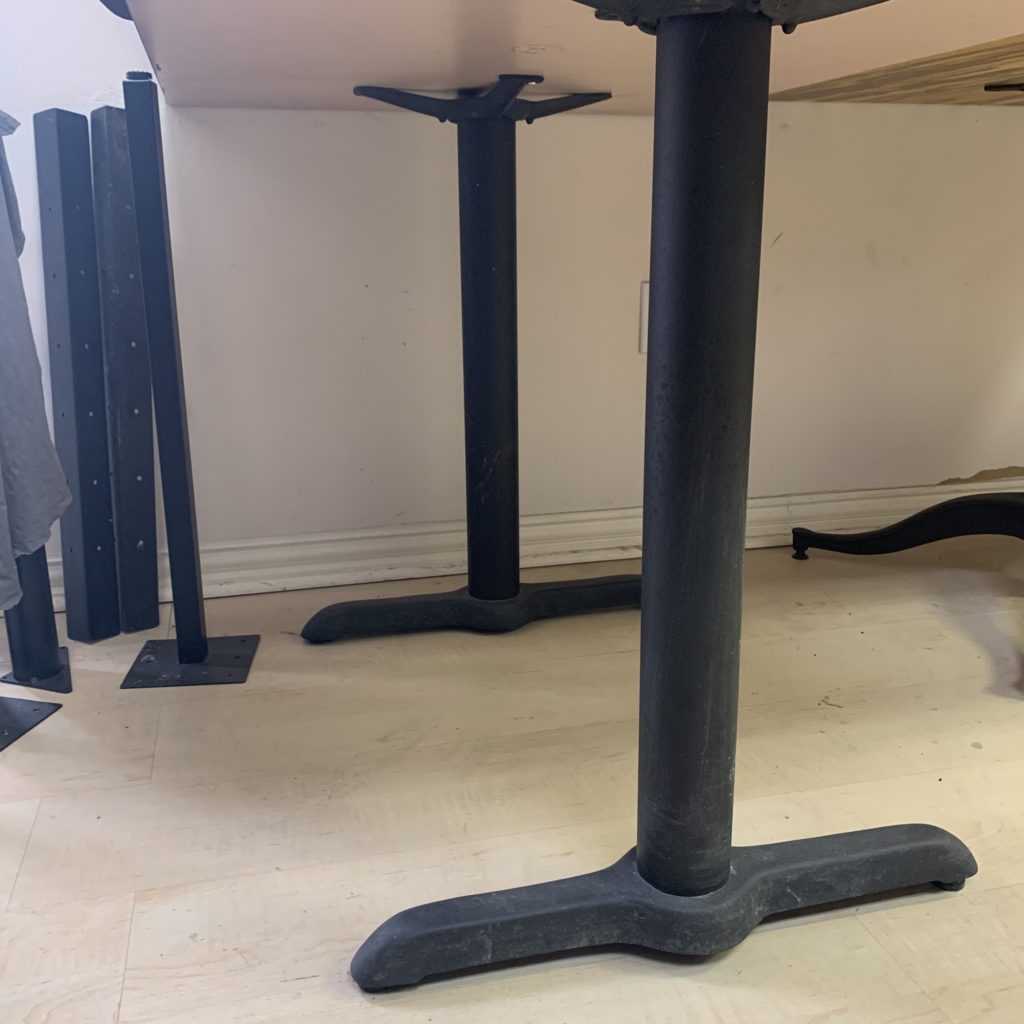 In reality, we will have to let our website show you the variety we offer. It is sorted by color, material, and series name.
We do also provide outdoor bases, mentioned in the Outdoor section below.
---
Outdoor
Our outdoor products are ahead of the curve in style and durability, sporting at least a 2.0mm thick metal that wipes the competition. Additionally, our standards for welds are high, so we do not accept weak point welds before we offer it to the customer as a valid item.
Outdoor Chairs and Barstools
Outdoor Booths
This is a item we CAN make, but not at a discounted price, since the wood required for outdoors is extremely expensive.
Outdoor Ottomans
Made using outdoor fabric, we can build these to size.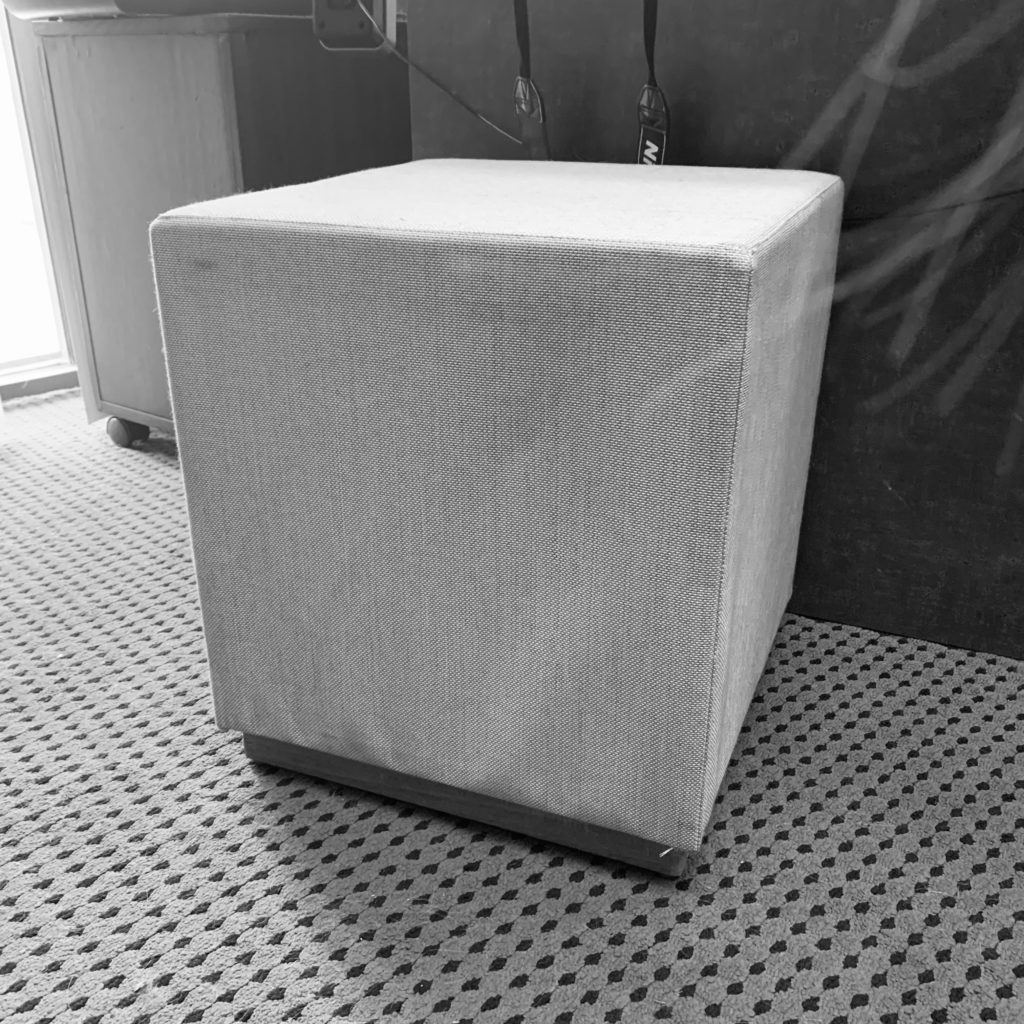 Outdoor Table Tops
For outdoor rated tops, we have custom color top melamine resin, canted for water spillage, and 10 mm phenolic, though both have the longest lead time at 10-12 weeks at this time. The melamine resin tops have limited sizes, whereas the phenolic top can be any size.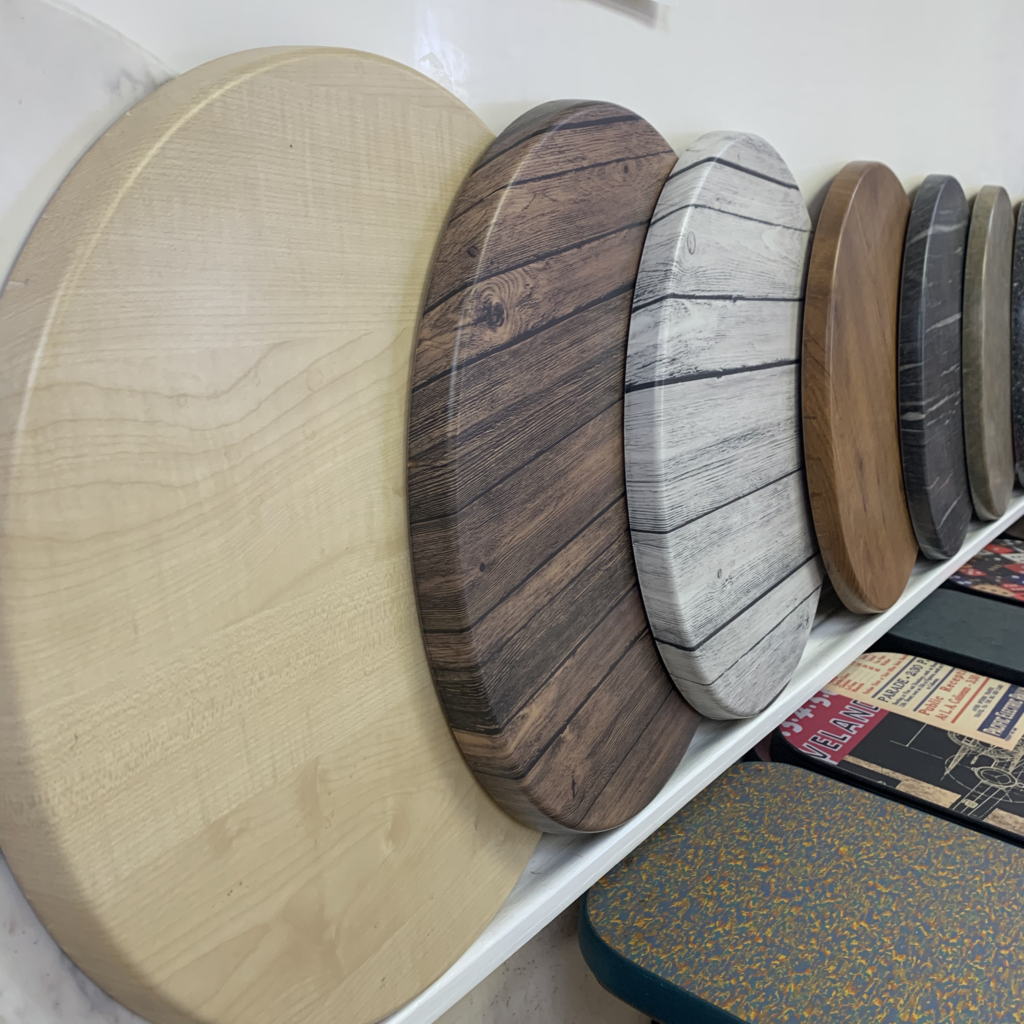 We also have a four legged top with three choices of slats, spaced or grouped; black plastic, grey aluminum, or oiled ironwood. We can space them so there's no gap, but we suggest the gap so food slips through, making it easier to clean.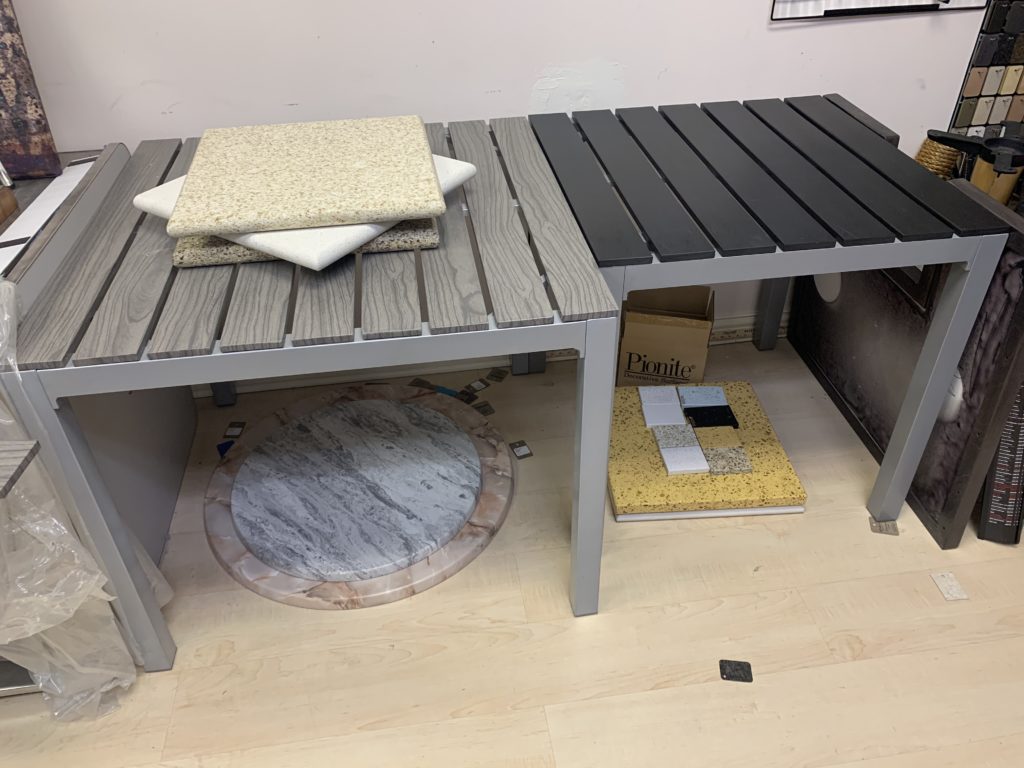 Last but not least, we have our heavy-duty ironwood on aluminum frames, made for essentially any size, rectangular or circular. It is the upper tier in pricing, but it is classy and long-lasting.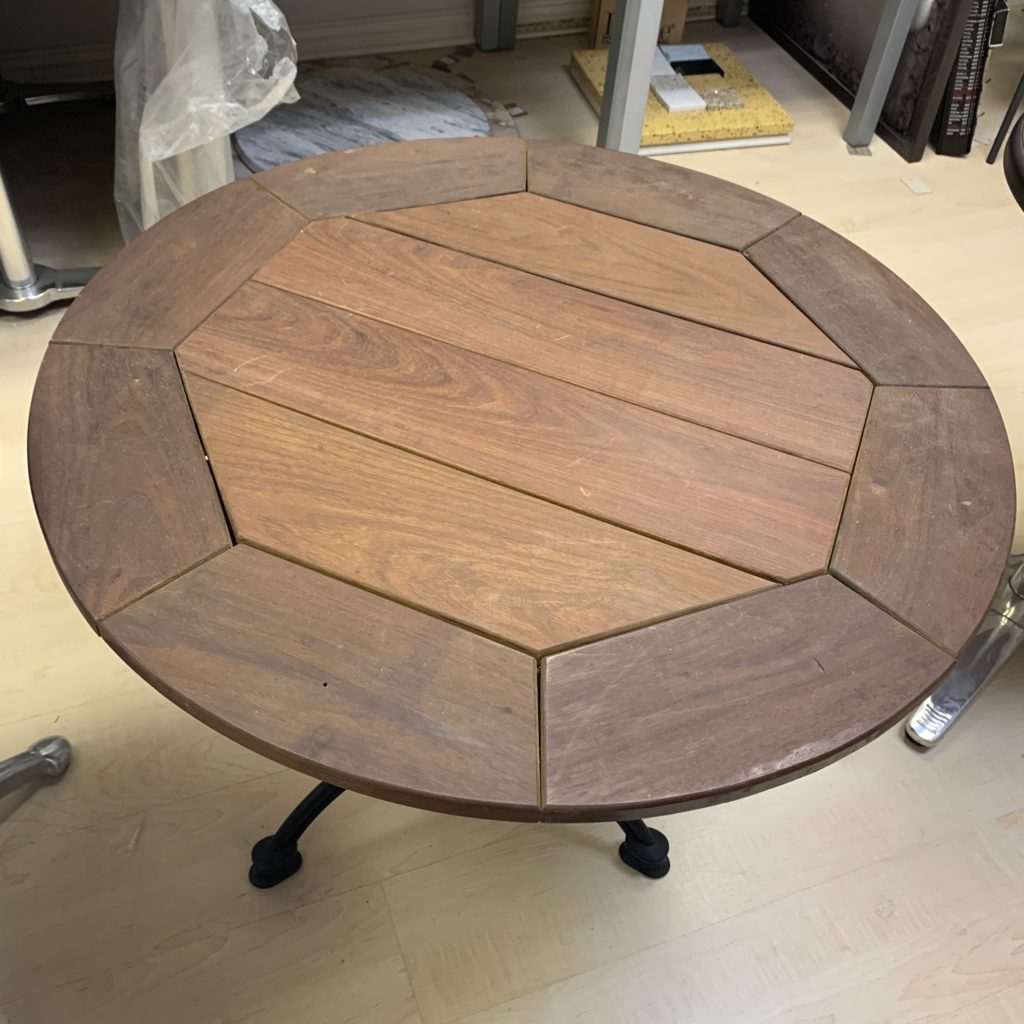 Outdoor Bases
There are two kinds of outdoor bases we carry; cast iron or aluminum. We've seen many customers buy non-outdoor rates bases and use them for outdoors, and simply spray paint black when the rust shows every few months, but that's a lot of extra work, isn't it?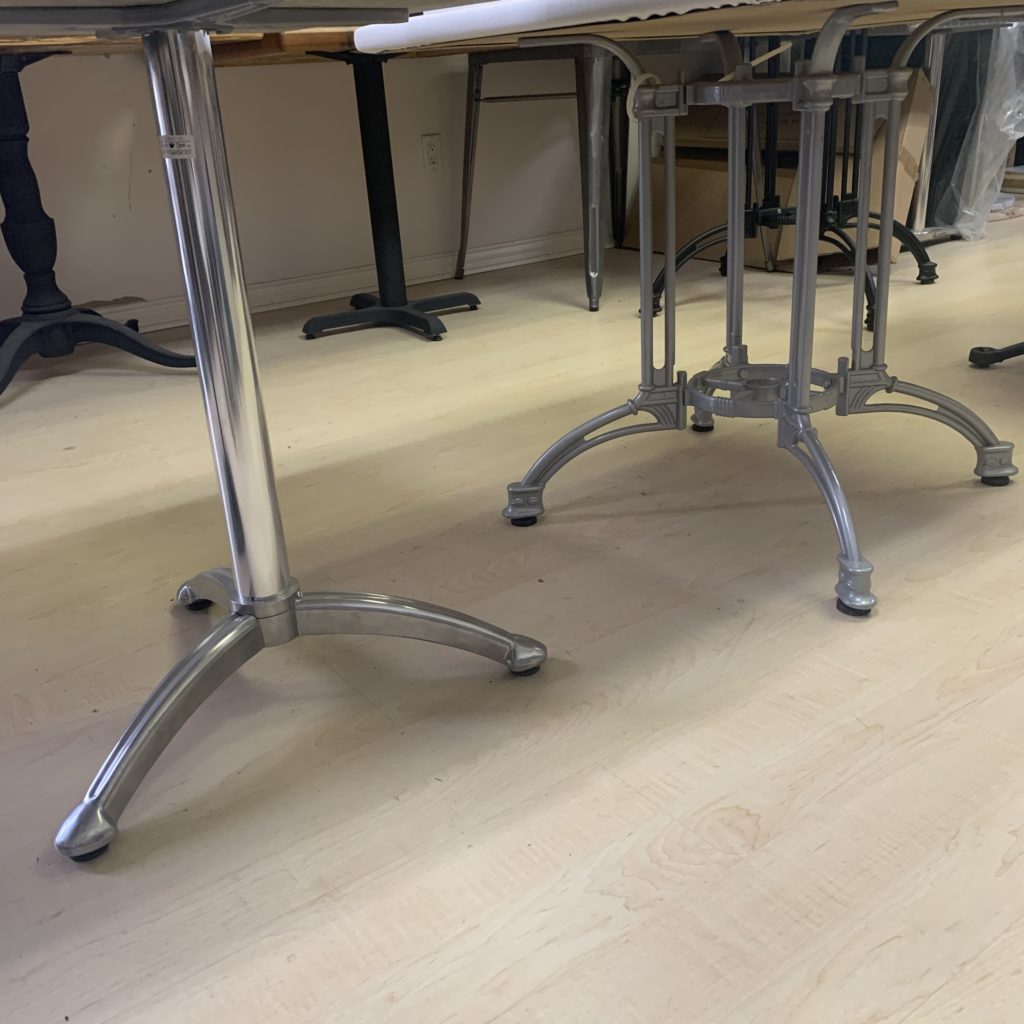 Thank you for joining us!
Though we are currently exempt from the local "Stay Home" order by Judge Lina Hildalgo, we are still working hard to keep everyone safe and healthy, and hope that if you have any questions, you can always call us at 713.690.1161 or send an email to info@eaglechair.com.
Updated 04.07.20